Some of our clients wish to use their existing Unifi networking equipment to manage their sites, however, Unifi's firewall may inadvertently prevent phones working properly. Follow these instructions to program your Unifi equipment to work with NorthByNorth telecom equipment.
A) Firewall Settings
The first thing to do is to log into your Unifi Controller. Navigate to the firewall settings according to Figure 1.
Figure 1 – Firewall Settings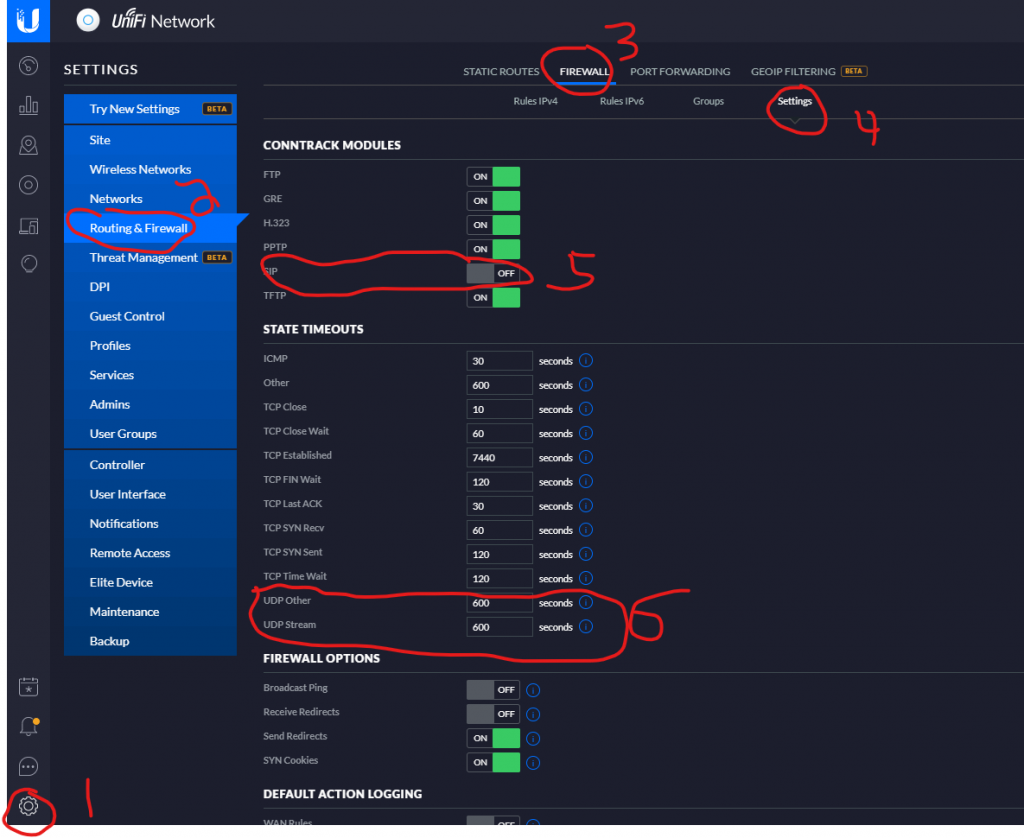 First, click on SETTINGS (1).
Then choose ROUTING & FIREWALL (2),
Select FIREWALL (3),
Choose SETTINGS (4)
Turn off SIP under the CONNTRACK MODULES (5)
Finally under STATE TIMEOUTS set both UDP OTHER ans UDP STREAM to 600 seconds each (6)
Select SAVE at the bottom of the page
B) Firewall inbound rules
The last thing to do is to allow internet traffic in from the phone system. In the Unifi Controller, find the screen by following steps in Figure 2:
Figure 2 – Firewall inbound rules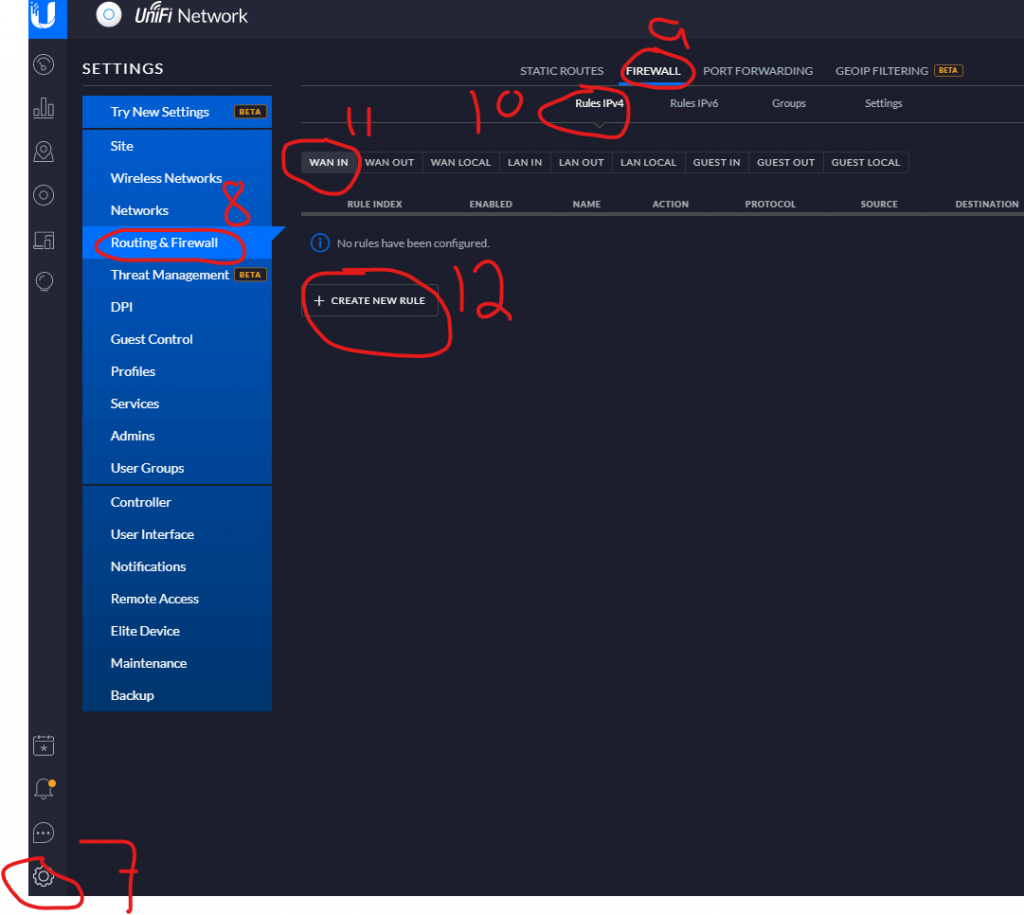 First, click on SETTINGS (7).
Then choose ROUTING & FIREWALL (8),
Select FIREWALL (9),
Choose RULES IPV4 (10)
Select WAN IN (11)
Select CREATE NEW RULE (see Figure 3 for details)
Figure 3 – WAN Inbound rules details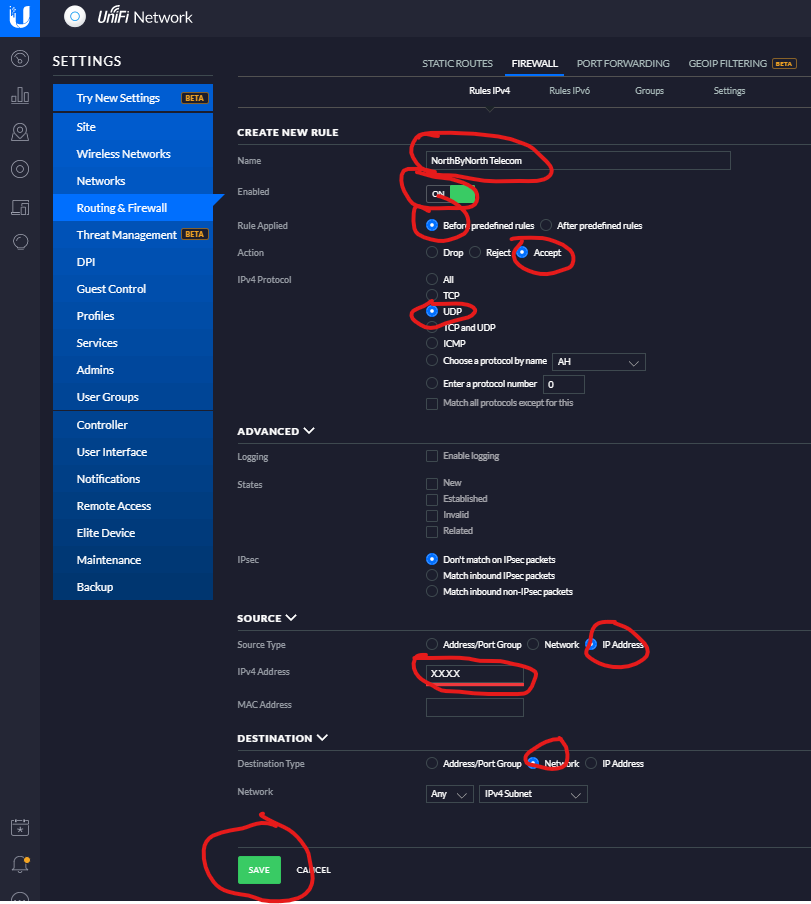 Under CREATE NEW RULE, enter a name – "NxN Telecom" for example).
Then toggle the ENABLED slide to ON,
Select BEFORE PREDEFINED RULE,
Select ACCEPT under the Action
Select UDP for the IPv4 Protocol
The SOURCE should be set to IP Address, enter the address provided by NxN
Ensure DESTINATION is set to NETWORK.
Press SAVE to publish your work.
Select WAN IN (11)
Select CREATE NEW RULE (see Figure 3 for details)
C) Set-up Quality of Service (QoS)
Once again click on SETTINGS.
Then choose NETWORKS,
Select the WAN network group, and select EDIT,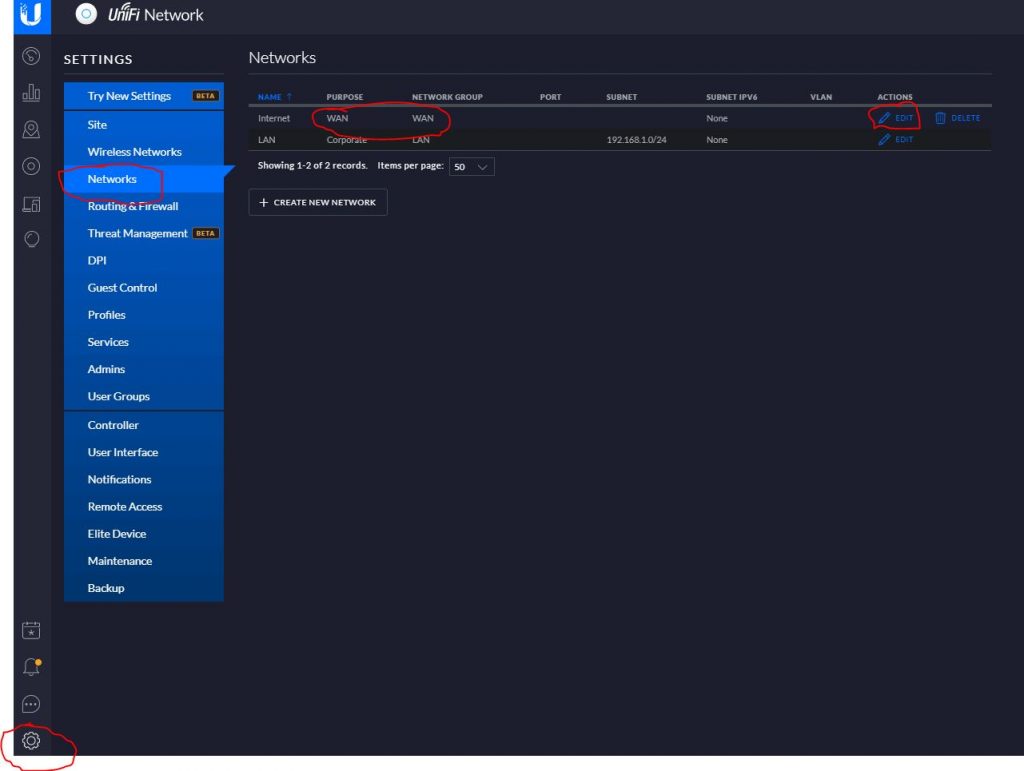 Once in the WAN network settings, goto the section called COMMON SETTINGS, and enable SmartQueues.
Select the PRE-POPULATE blue button.
Select SAVE